Aberdeen Roofing Contractors Providing Exceptional Service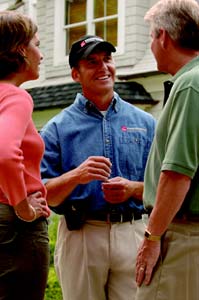 At Pacific Capital Construction, our Aberdeen roofers believe that every local property deserves to have the most beautiful and reliable roof possible. Our contractors understand the importance of your roofing system. As such, we work our hardest to provide our customers with the highest quality roof installation, repair, and replacement services possible. In this way, we continuously exceed customer expectations.
Call Pacific Capital Construction if you need to hire an Aberdeen roofing contractor. Our staff would be happy to assist you in any way that we can. We would be excited to schedule your appointment today.
Aberdeen Gutter Cleaning Serives
In addition to the wide range of high quality roofing services that we provide, our Aberdeen roofing contractors can help you with all your routine gutter maintenance needs. The gutters on your property are just as important in protecting your home during inclement weather. By failing to routinely clean your gutters, the entirety of your property's exterior is placed at risk.
During even the slightest amount of rain, a great deal of water is collected on the surface of your roof. This water then forms a stream that will be channeled by your gutters safely to the ground. If your gutters are dirty and obstructed, the water will instead cascade off the roof of your home. In turn, it will damage your siding, windows, doors, and landscaping. Even worse, the water that pools at the base of your home can damage the foundation of your property.
With the help of our gutter cleaning contractors, you can always rest assured knowing that your gutter system is providing your Aberdeen residence with the highest level of protection. Better yet, you will never have to climb a ladder to rack wet leafs and debris from your gutters again.
Aberdeen Roof Repairs and Replacements
Whenever your roof is substantially damaged, it is important for you to act quickly. Damage to your roof means that the protective barrier has been compromised. The longer you allow the damage to persist, the more damage that will occur to your roof and your Aberdeen property.
At Pacific Capital Construction, our Aberdeen roofing contractors can repair the most extensive roofing damage. Likewise, we have the ability to conduct complete roof replacements. When you hire our professionals to deal with your faulty roof, we will provide you with expert advice that you need so that you can make the right choice between roof replacement and repair services.
When we conduct a full roof replacement, our goal is to add substantial, long-lasting value to your Aberdeen home or business. By focusing on this goal, we can guarantee that you will receive the highest quality roofing services.
What Aberdeen Homeowners Are Saying About Us
Pacific Capital Construction is Rated: 5 / 5
based on these 1 happy customer reviews.
---
"This company (Pacific Capital Construction) did a wonderful job on my rental house roof. The cost was very completive and the craftsmanship was excellent and when they left, there was not one speck of pulled off roofing to be found............I will have them redo my home roof next. Thank you."
---
Recent Projects Completed in Aberdeen, WA
If you need to hire a porfessionally licensed roofing contractor in Aberdeen, call Pacific Capital Construction at 360-637-9469 or complete our online request form.