About Your Trusted Grays Harbor County Roofing Contractors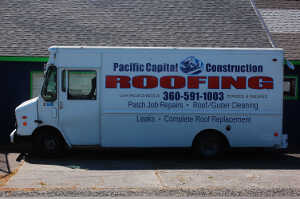 In 2008, Pacific Capital Construction set out on a mission to provide Grays Harbor County residents with the highest quality roofing services possible. Our Grays Harbor County roofing contractors understand that your roof is vitally important to the safety and well being of your family. At your home, your roof provides you and your family with the comfort and security that you deserve. At you business, your roofing system protects the time and investment that you have placed in your business.
Because you roofing system is so vitally important, Pacific Capital Construction and our Grays Harbor County roofing contractors are honored each and every time that a local resident trusts us for their roofing project. In every task we undertake, we strive to honor that trust by putting our best effort forward. We treat each roofing service as if we are performing it on our own home or business. In this way, we can guarantee that you will be completely satisfied with our roofing professionals.
As part of the Grays Harbor County community, Pacific Capital Construction strives to form lasting relationships with our customers. We work with our customers at every stage of every project in order to keep you attuned to our efforts and to customize our services to your needs. Through this detailed approach, our roofers are able to ensure the highest levels of satisfaction. We want our Grays Harbor County customers to know whom they can trust with all of their roofing needs in the future.
Call Pacific Capital Construction if you need to hire a professionally licensed roofing contractor in Grays Harbor County. Our courteous and polite staff is here to help you in any way that we can. We would be happy to discuss any roof related project with you or explain the many benefits of our expertly performed roofing services. Our staff can schedule your appointment today.
Exceptional Services We Offer
If you need to hire a professionally licensed roofing contractor in Grays Harbor County, call Pacific Capital Construction at 360-637-9469, or fill out our online request form.
Recent Articles