Spring Cleaning Includes Your Gutters!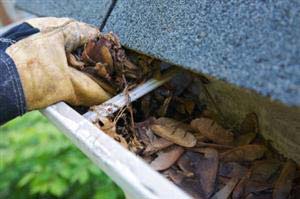 Trying to be a diligent homeowner means taking care of a lengthy and ongoing task list; it seems to never end. And once or twice a year that list of chores needs to include gutter cleaning.
Ask any expert and they'll tell you that your gutter should be cleaned once in the late summer or early fall and then again in the springtime. The problem is too many homeowners put this task off because quite frankly, it's is a dirty job.
That's why it makes more sense to leave the work to the roofing contractors. Not only will the task get done in a prompt and professional manner, you won't have to worry about safety, time, or mess.
Protecting Your Gutters & Your Home
Dry leaves, tree branches, and other organic debris all make their way into your gutter. To prepare for the spring rains, you're going to want to have clean gutters or they won't be able to do their job.
Once the heavy spring rains start, your clogged gutters will be in trouble. They will flood which can cause staining and damage to your roof and siding but also pose a threat to the very foundation of your home.
Clogged and overflowing gutters can lead to issues like mildew, mold, and rot. All of which can pose a serious threat to either human health or structural integrity.
Stagnant water is the ideal breeding ground for certain types of bugs, especially mosquitoes. Not only do you not want these pests lingering around your home, you have to worry about diseases they carry such as West Nile and Zika.
The whole point of your gutter system is to collect water and send in to the downspout and away from your home's foundation. If this system is compromised in any way, it can end up having the opposite effect and sending water down the side of your house or to overflow and collect around the home.
In order to prevent this from happening, you need to call Pacific Capital Construction. We will take care of all of your Grays Harbor County roofing contractor services, including professional gutter cleaning.
If you need to hire a professionally licensed roofing contractor to conduct gutter cleaning services in Grays Harbor County, call Pacific Capital Construction at 360-637-9469, or fill out our online request form.